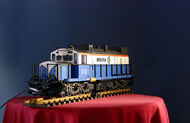 G scale is a model railway scale that's honking huge and used outdoors. Gscale was started by Ernst Paul Lehmann Patentwerk under the brand name LGB it was founded in 1881, while their trains sold under the brand name Lehmann Gross Bahn ("Lehmann Big Train"). The company had a USA side of the company called LGB of America.
[1] DAV&P MRR. in G scale
Ad blocker interference detected!
Wikia is a free-to-use site that makes money from advertising. We have a modified experience for viewers using ad blockers

Wikia is not accessible if you've made further modifications. Remove the custom ad blocker rule(s) and the page will load as expected.